SKAL INTERNATIONAL
FORT LAUDERDALE & THE PALM BEACHES
CLUB NEWS
Skål International Ft Lauderdale & the Palm Beaches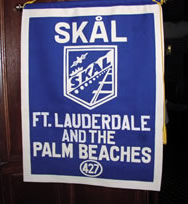 Our February dinner meeting was held at the West Palm Beach Marriott. As always the hotel staff provided outstanding food and service. We opened the dinner with a presentation by our member Jorge Pesquera, President of Discover the Palm Beaches on the status of the Hospitality, Tour and Travel Industry in Palm Beach and Florida including information on upcoming tourism promotions and working with future hotel development.
During the dinner we honored our member Paul Cook who passed away in January. Members signed cards which were sent to Paul's family and watched a video showing pictures of Paul during his 17 years as a member of our Skal Club.
Looking forward to seeing everyone at the March 6th dinner meeting which will be held at the Hyatt Place Hotel and Mezzaluna Restaurant in Ft Lauderdale in conjunction with the Sea Trade Cruise Convention.
CLICK HERE
for the March, 2018 Dinner Meeting at the Marriott West Palm Beach.
CLICK HERE to read more club news in the February President's Letter.
Club Announces Future Meeting Venues!!
March 6, 2018 - Hyatt Place & Mezzaluna Restaurant - Ft Lauderdale
April 10, 2018 - Delray Sands Resort - Highland Beach
May 1, 2018 - Hilton Airport Hotel - West Palm Beach
June 5, 2018 - Stache Restaurant - Ft Lauderdale
Skål International & SIUSA Future Meetings:
May 3-6, 2018 - NASC Congress - Playa Mujeres, Mexico
October 17 - 21, 2018 - Skal International World Congress - Mombasa, Kenya