SKAL INTERNATIONAL
FORT LAUDERDALE & THE PALM BEACHES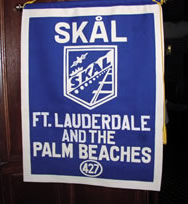 In 2017 We Are Celebrating Our 40th Anniversary
CLUB NEWS
Skål International Ft Lauderdale & the Palm Beaches
Our November dinner meeting was held at Maggiano's Restaurant in Boca Raton where after the reception we were treated to a great Family Style dinner. During the dinner we honored one of our members for their 25 years in Skål and presented a banner to our club's President from Skål International President David Fisher celebrating the Skål International Ft Lauderdale & Palm Beaches club's 40 years in Skål.
We again accepted donations from our members and guests for the Tourism Cares Hurricane Relief Fund. We are looking forward to our annual December Holiday Dinner Dance and Auction and hope to see everyone there. Enjoy the upcoming holiday season and Happy Thanksgiving.
CLICK HERE
for the December Holiday Party & Auction December 13, 2017 - Benvenuto's – Boynton Beach
CLICK HERE to read more club news in the November President's Letter.
Club Announces Future Meeting Venues!!
December 13, 2017 - Wednesday - Benvenuto's Restaurant - Boynton Beach
January 9, 2018 - Installation of Officers Dinner - DoubleTree Hotel - Deerfield Beach
February 6, 2018 - Marriott Hotel - West Palm Beach