Skål Monthly Reception & Dinner Meeting
Tuesday, September 15, 2015
LOCATION:
Waterstone Resort & Marina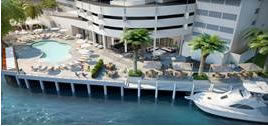 999 East Camino Real
Boca Raton, Florida 33432
561 – 368-9500
www.waterstoneboca.com
DIRECTIONS: I-95 exit Palmetto Park Road going East to US 1. Turn right going South on US 1 to East Camino Real. At light turn left going East. Go half way around the circle at the entrance to the Boca Resort and continue on East Camino Real. Cross the small bridge over the Intracoastal - The hotel will be on your left. Valet and self parking available.
Reception:

6:30PM - 7:30PM
Butler Passed Hors d'oeuvres and Complimentary Wine

Dinner:

7:30PM - 9:30PM
Salad
"Taste of the Harvest" Roasted Beets with Organic Steel cut Greens, Herb Dusted Goat cheese, Spiced Rum Flashed Raisins, Toasted Pistachios, 30 year Balsamic Reduction
ENTRÉES
(Please submit choice with RSVP)
Petit Prime Filet with Broken Foie Gras Emulsion

or

Mango Mustard Glazed Salmon atop Papaya Salsa

Both served with Crispy Shaved Brussel Sprouts tossed with Vivant Pancetta Porcini Risotto
Dessert
Chef Matt's Creamy Peanut Butter Gallate
Coffee, Tea and Wine Served with Dinner
GUESTS WELCOME - $50
RSVP WITH DINNER CHOICE
rsvp@skal-ftlauderdale-palmbeaches.org
NO LATER THAN Friday, September 11, 2015!
CONTACT: Becky Reincke 561- 301-3660 or Dick Stafford 561- 627-8859