President's Letter
January, 2013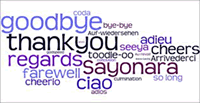 Greetings Fellow Skalleagues!
As I sit and write my final President's letter, I feel so fortunate to have been a part of this Club's leadership and legacy. Time flies when you are having fun! I have had such great support in my officers and board members and I'd like to say a special thank you to both Dick Stafford and Teresa Nix. They have been my right and left arms at times and have put so much blood, sweat and tears into this Club. They both were instrumental in putting this special evening together and, for that, I thank them.
We had our 2013 annual officer installation last Wednesday at the Boca Renaissance Hotel. The staff did a great job as our hosting venue and service and food was excellent. What a phenomenal turnout and event. Not only did we have our installation of officers, but we had the opportunity to celebrate 35 years of our Club's existence and honor the past presidents that helped in its' growth. Each one brought their unique talents and guidance to build a strong foundation and continued growth. James Hansen, our Treasurer and auctioneer extraordinaire did an amazing job in presenting this part of our evening, bringing his unique fun spin to what could have been a dry program. Hats off to James!
As part of this event, we were fortunate to have visiting SIUSA dignitaries as part of our installation: Tom White, President SIUSA and past President of the Orlando Club, Mr. Bill Pullen, past SIUSA President, member of SIUSA, member of Orlando Club and past President of Palm Beach Club, our own Carlos Banks –VP of Administration SIUSA , our Club's Executive Secretary Treasurer as well as past President of Detroit Club, Dick Knorpp – VP of Finance, SIUSA and member & past President of Washington, DC Club and Martha McClintock – VP of Region IV and member & past President of Jacksonville Club were all a part of our ceremonies. We had all living past presidents of our Club in attendance except for two who could not attend due to prior commitments. We also had many former members and 3 founding members of our Club: Bill Pullen, John Puskar and Bradley Stewart were in attendance as well, making the event a special occasion and a memorable evening! We also presented our Club flag to visiting local dignitary, Jorge Pesquera, CEO of Palm Beach County Convention and Visitors Bureau.
Please take a moment to visit our website to view all the great photos that Paul Cook took that evening at www.skal-ftlauderdale-palmbeaches.org. If you don't see many pictures of Paul, you'll know why!
In closing, I want to introduce you to your 2013 officers and board members. Please support them as you have supported me.
2013 Officers
President - Teresa Nix
Vice President - Becky Reincke
Secretary - Paul Cook
Treasurer - Jim Hansen
SIUSA Representative - Beth Cohen
2013 Board Members
Gayle Gruenbaum
Jawayne Keyser
Cecilia Hudnet
Dick Stafford
Executive Secretary/Treasurer, Carlos Banks

Thank you for your friendship these past two years. It has been a great run!

Cheers and Skål!

Beth

Beth Cohen,Immediate Past President and SIUSA Representative
SKAL Ft. Lauderdale & Palm Beaches
Bcohen.yoursolution@gmail.com
561-866-4663

2013 FUTURE MEETINGS:


Tuesday, May 21, 2013 - YOLO, Las Olas Boulevard, Fort Lauderdale
Tuesday, June 18, 2013 - Marriott Resort & Spa, Singer Island

Contact any one of your Board members to share your ideas and suggestions for the Club. Don't forget to check our website www.skal-ftlauderdale-palmbeaches.org to get more information on our club, pictures and the upcoming Skål Monthly Reception & Meeting.
Have you logged on to our website recently? Should your answer be no, we do encourage you to do so soon! www.skal-ftlauderdale-palmbeaches.org.
Members who wish to have a link put on the website to their business can do so by sending a 'live link' to rwstaff@bellsouth.net. .
Members who have had a change in email address are requested to contact Paul Cook at travelizme@aol.com to inform him of those changes.
Other changes (address, phone, etc.) should be made on the SKAL website, www.skal.org with a copy to Paul Cook.